Heidi Sheffels, LMT~Clinic Owner
Heidi has been a Licensed Therapist/Health Care Practitioner and Clinic owner, up north, in Kirkland and here in Olympia, for over 31 years combined, treating muscular injuries. She is also a certified Instructor of Neuromuscular Therapy and Re-education , Auto Accident Recovery, Sports Massage & Trigger Point Therapy for other local Healthcare Providers. She understands pain. Her background as a Student Athletic Trainer at Whitworth University by treating a variety of sports injuries and her experience of being an EMT on the Emergency Rescue Ambulance Squad Team, taught her to be actively ready to treat & help people who are in immense trauma, has helped her understand many types pain and pain levels. She believes most people's muscular pain can be relieved with hands-on focused treatment and that sometimes it only takes a few sessions to have pain levels decrease significantly. Heidi also appreciates working with other local Doctors and Healthcare Providers in and around Olympia, to help with one's healing process. When asked what she hopes to achieve at her Clinic, Heidi did not hesitate, "There are just too many people suffering from acute and chronic pain…our goal here at Steamboat Health & Wellness is simple, it's to get people out of  their muscular pain, as quickly and effectively as possible. We are a team here and there's nothing better than seeing a smile on our patient's faces when they leave the Clinic after seeing one of our talented, caring therapists, knowing that we helped to alleviate their pain for one more day." Heidi is  grateful to work with such an amazing team! She encourages every patient to see each Therapist because they all have uniquely helpful abilities and techniques. Heidi enjoys living in the Steamboat Island Community for the past 18 years and loves being with her 4 Boys, 2 Pups and Husband of 31 years.
Joanna Williams, LMT
Joanna is a very dedicated and inspiring therapist here at Steamboat for over 7+ years. She is well know for dependability, therapeutic skills, knowledge and experience of the muscular injuries. She specializes in Auto Accident Injuries, Sports Massage, Trigger Point Therapy, Deep Tissue and Neuromuscular Re-education, with focused detailed work for most any type of injuries, tightness and pain levels. She loves a good challenge. Joanna enjoys educating her patients and showing them stretches and corrective posture to increase their healing process and decrease their pain level. Very encouraging & supportive, Joanna has the desire and focus to help people who are at any pain level by applying her healing techniques and detailed care to each one of her patients, every single session, with the intent to decrease their pain, restore the function, strength, range of motion & flexibility to muscles that are too tight, causing pain, headaches or migraines. She is a Graduate of BodyMechanics in 2012 and lives in Shelton with her husband of 14 years and their darling son, daughter and one more on the way! So, if you need pain relief by someone who has a wealth of knowledge and healing ability, Joanna's your therapist.
Cassie Studer, LMT
Cassie graduated from East West College of the Healing Arts in Portland, Oregon in 1996 and has practiced Therapeutic Massage ever since. Specializing in Traumatic Injury Recovery, Elderly Massages, Relaxation Massage Therapy. Throughout her 22 + years of practice, Cassie has been trained in Sports Massage, Prenatal Massage, Infant Massage with Training for Parents, Postural Assessment, Pin and Stretch Ligament Rebalancing, Lymphatic Drainage, Geriatric Massage, Intra-Oral Jaw Treatments for TMJD, along with Auto-Accident Care. Cassie lives in Olympia with her husband of 20 or more years and her sweet kitty. She has worked in the South Puget Sound since 2004. Although she loves a good laugh, don't be surprised if she takes your case very seriously and gets right to work. If you need post-operative care, help to improving your posture & increase your range of motion, or could use some guidance to manage high stress in your life, Cassie's caring ability and skills will be perfect for you.
Maile Koeckritz, LMT
Maile is a patient focused, dependable, caring therapist and her patients mean a lot to her. She is one who strives to help her patients to become healthier, happier and achieve their wellness goals. She will and has gone out of her way to make a difference in her patient's lives, not just by her therapy she provides, but also by her kind guidance, empathy and education she shares, to help those who are in pain.  She graduated in 2010 from Inland Massage Institute has been a Therapist at Steamboat for almost 2 years. Maile enjoys using and applying her skills she has obtained over the years, for the well-being and healing of her patients. Maile specializes in Sports Massage, Auto Accident Treatment, Injury Treatment & Deep Tissue Therapy, yet she is gentle, if needed when one is suffering from an acute muscular injury or is in high level of pain. On her spare time, she enjoys riding her motorcycle with her best friend Brian and running with her dog.  She is also enrolled in the preliminary classes for Nursing School, which will launch her even further as being a person who loves to make a difference in her patient's lives. So, if you would like Maile's quality and dedicated care, that she so faithfully provides, then feel free to call to get on her schedule.
Preethie Capezio, LMT
Preethie has such an inviting personality. Her warm, caring & gentle way of healing is well worth the experience. She has been associated with this Clinic, as a Massage Therapist for over 8 years and has been practicing for over 20. She has graduated from Acupuncture Schooling and is just awaiting to take her big exam, so you know her intent is to heal people. Preethie takes time in helping people who come in the Clinic with muscle pain or who may be suffering from a headache or migraine, to be able to leave with less stiffness, pain and stress. She takes time not just for the physical aspect of pain, but she will be there for those who need of mental, emotional care, as well. Whether she is taking care of an Auto Accident Patient, or on the Job Injury or maybe a Relaxation Massage is in order, then Preethie can do that just for you, your friend or family member.
Sydney Evans, LMT
Sydney has been practicing Massage Therapy since 2016. She specializes in Swedish style Massages combined with Deep Tissue and Myofascial Release Techniques. Sydney is Certified in Prenatal Massage for the expecting Moms offering plenty of pillows, wedges and props that are available. She also offer Hot Stone Therapy, with notice, so she can prepare the stones in advance. Sydney offers Relaxation Massage but her passion is to work with Muscular Injuries, Musculoskeletal Disorders, and Chronic Pain Management. She also accept most Health Insurances including Auto, L&I or on the job injuries.  Let us know if you prefer 90 mins sessions and she would be willing to provide, that if needed. She enjoys her time with her 2 little kids ,while living only minutes from the Clinic. Feeling like you would benefit from one of Sydney's therapy sessions, give us a call and we can get you scheduled.
Wanju Kellams, LMT
Wanju brings a smile and care to each session, and a listening ear to consider your situation and your needs. She trained at Bodymechanics School of Myotherapy and Massage, and specializes in Myofascial Release Therapy, Deep Tissue Work, Trigger Point Therapy, Swedish Massage, Injury Treatment Therapy, Hospice Therapy, and Relaxation. Wanju has known the pains and stressors of a desk job, and developed exemplary customer service professionalism, as a result. She provides detailed bodywork based on each patients' needs and encourages her patients to continue home recovery in between sessions. Her goal is to help patients leave with less pain and stiffness and receive more overall wellness. She combines bodywork with collaboration towards recovery and maintaining good health. Wanju currently lives in Lacey with her husband and their tuxedo kitty. If you would like to figure out what's causing your pain and work towards wellness from tight muscles, stressors, or injuries, then we can get you scheduled with Wanju.
Scott "Benji" Gibson, LMT
Scott
, who also goes by Benji, trained at Bodymechanics School of Myotherapy and Massage in Tumwater, WA. There, he excelled in working with clients who have suffered injuries, to reduce their pain and increase range of motion. He specializes in Injury and Dysfunction treatment, Swedish, Relaxation, Myofascial Release, and Deep Tissue Massage. Benji has been a Firefighter/EMT, a Soldier in the Israeli Defense Forces, a Martial Arts School Owner/Instructor, as well as being a Long Haul Commercial Driver. Benji has battled Carpal Tunnel Syndrome as well as injuries sustained from a three story fall…he understands pain very well. Benji currently lives in the Olympia area with his Alaskan Husky, 'Sky' and just had his first baby recently. In his spare time, he enjoys being with his family, playing the guitar and being in nature. Whether you want a better sports performance, or to get help with stretching tight muscles or if you or someone you know could use some Deep Tissue muscular work, ask for Benji. He's ready to help.
 Wendy Larson, LMT 
Wendy has been a licensed Massage Therapist in Washington since 1999, working with the Puget Sound Tumor Institute at Stevens Hospital in Edmonds WA.            In 2013 she started working with Dr. David Camp at Camp Chiropractic Center in Lacey WA specializing in acceleration/deceleration injuries (Whiplash).                      She has also continually works seasonally with the America Massage Therapy Associations Sports Massage Team and annually Volunteers at the State Capitol here in Olympia for Massage Awareness Day. After moving to Steamboat Island in 2021 Wendy joined our team here at Steamboat Health and Wellness. The massage modalities Wendy gravitates to are holistic, combining a Swedish-Hawaiian fusion focusing on the Lymphatic System providing extremely effective Medical Massage Therapy and Injury Treatment Massage that is known for reducing pain by reducing inflammation. She provides therapy to 5-6 patients a day, 5 days a week. When she's not working, she spends her time with her kids, family and friends. Call us anytime for your appointment with Wendy.
 Kelly McKeon, LMT
Kelly has a great demeanor and is very welcoming when he sees his patients come in the door. He has been practicing for over 4 years and his goal is to help people in muscular pain, as a deep tissue therapist, who listens to his patients. He is actively involved in their healing process by encouraging them, even after the massage,      to stretch & lengthen tight muscles and to increase hydration for their muscles to perform in a healthier manner. He is an advocate for the natural healing process with the "hands on healing" approach. Kelly treats patients with upmost respect, care and dedication, to help expedite their healing process, especially those who may be in chronic or acute pain from sports or auto injuries, to those who suffer from headaches, migraines, or from repetitive strain/pain from being at the computer too long or working in the yard. He works afternoon and evening, including Saturdays appointments to accommodate people's work schedule. Kelly enjoys his off days with his wife, family and his friend's get-togethers.  Call for your appointment, you won't be disappointed.
Christina Van Camp, LMT

Christina loves blending styles and using various techniques she knows to better fit the needs of her clients. From treatment oriented bodywork including (but not limited to) trigger point therapy and myofascial  release, to a more eastern approach with inspired techniques such as Thai Yoga, Reflexology, and Ayurvedic Treatments. Christina also incorporates Swedish relaxation massage in all of her sessions, but has a real passion for sports massage. She is currently Certified as a QiGong Practitioner to aid in a more grounded energy work session, as well as a Certified Intra Oral Practitioner for a more treatment biased approach for conditions such as TMJ disorder. She looks forward to adding more and more knowledge to her sessions to create a more personalized experience that is the most beneficial to each individual. Christina was born and raised here in Thurston county and now resides in Lacey with her son Ethan. She graduated from Everest College in Tacoma in February of 2012 with honors, and was also an ambassador for the school's Leadership Program. She books quickly, so call for your appointment.
Angela Dalessandro,
Office Manager/Medical Biller
Angela has been a tremendous help! She loves rectifying patient's accounts and doing the detailed, nitty gritty health insurance billings and important "follow through".  She is very organized and has wonderful people skills. She has been working here since 2018 and the Clinic would not be the same without her tenacity and amazing dedication. If you have billing questions, concerns or need help figuring out what your insurance is paying or not paying, she's the gal for you. Angela, her husband, and 2 married adult children have been apart of the Steamboat Community for over 20 years. She is not just a Medical Biller, she is a long time friend, as well.

Mr. Shaggy Sheffels, Greeter/Therapy Dog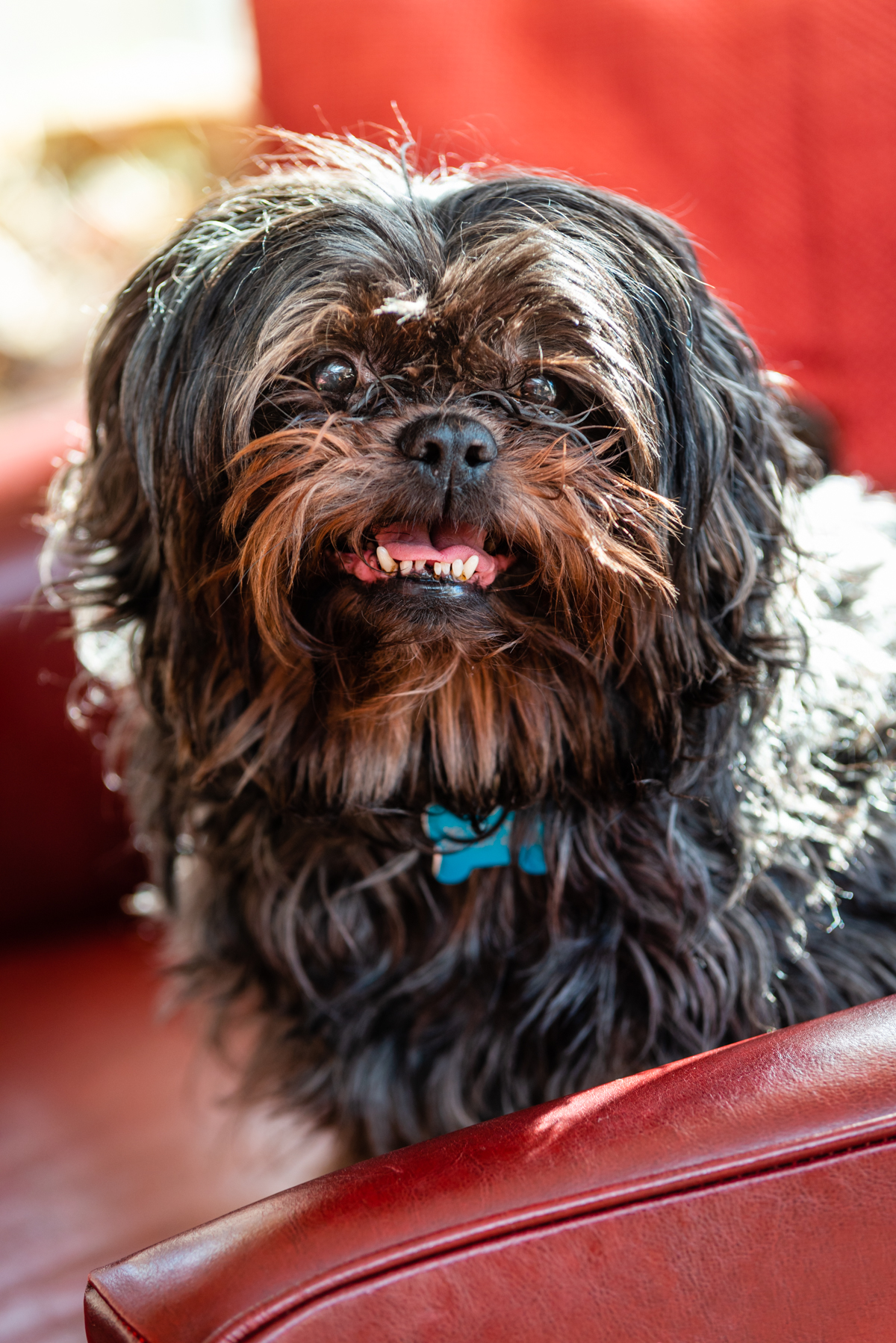 Shaggy loves to meet and greet each person who comes in the door. He is a little gentleman. Shaggy is very calm, polite and his hair is hypoallergenic. Shaggy was a rescue pup about 10 years ago and he has been, and still is, the clinic's highlight everyday he comes into work.  He truly enjoys making you feel welcome…there's just something about Shaggy you can't help but love.