Heidi Sheffels, LMT~Clinic Owner
Heidi has been a Licensed Therapist/Health Care Practitioner and Clinic owner, up north, in Kirkland and here in Olympia, for over 30 years combined. She is also a certified Instructor of Neuromuscular Therapy and Re-education & Trigger Point Therapy for other local Healthcare Providers. She understands pain. Her background as a Student Athletic Trainer at Whitworth University by treating a variety of sports injuries and her experience of being an EMT on the Emergency Rescue Squad Team, taught her to be actively ready to treat & help people who were in immense trauma, has helped her understand many types pain and pain levels. She believes most people's muscular pain can be relieved with hands-on focused treatment and that sometimes it only takes 1 or 2 sessions to have pain levels decrease significantly. Heidi also appreciates working with other local Doctors and Healthcare Providers in and around Olympia, to help with one's healing process. When asked what she hopes to achieve at her Clinic, Heidi did not hesitate, "There are just too many people suffering from acute and chronic pain…our goal at Steamboat Health & Wellness is simple, it's to get people out of  their muscular pain, as quickly and effectively as possible. We are a team here and there's nothing better than seeing a smile on our patient's faces when they leave the Clinic after seeing one of our talented, caring therapists, knowing that we helped to alleviate their pain for one more day." Heidi enjoys living in the Steamboat Island Community and loves being with her 4 boys, 2 pups and husband of 31 years.
Joanna Williams, LMT
Joanna is a very dedicated and inspiring therapist here at Steamboat for over 7+ years. She is well know for dependability, therapeutic skills, knowledge and experience of the muscular injuries. She specializes in Auto Accident Injuries, Sports Massage, Trigger Point Therapy, Deep Tissue and Neuromuscular Re-education, with focused detailed work for most any type of injuries, tightness and pain levels. She loves a good challenge. Joanna enjoys educating her patients and showing them stretches and corrective posture to increase their healing process and decrease their pain level. Very encouraging & supportive, Joanna has the desire and focus to help people who are at any pain level by applying her healing techniques and detailed care to each one of her patients, every single session, with the intent to decrease their pain, restore the function, strength, range of motion & flexibility to muscles that are too tight, causing pain, headaches or migraines. She is a Graduate of BodyMechanics in 2012 and lives in Shelton with her husband of 14 years and their darling son, daughter and one more on the way! So, if you need pain relief by someone who has a wealth of knowledge and healing ability, Joanna's here to help.
Sunshine Patterson, LMT
Sunshine, is full of sunshine, talent and laughter and is known to brighten everyone's day with her smile and encouraging words. She greets her Patients with utmost sincerity of being so very happy to see and help them with their pain, stress or discomfort. She moved here from Hawaii and is enjoying living in Olympia with her 5 Children for the past few years now. Sunshine is a graduate from our local school, BodyMechanics and has been practicing here at Steamboat for over 3 years.  She specializes in Auto Accident Care, Pregnancy Massage, Sports Injuries, Swedish Relaxation, and Deep Tissue Therapy.  She takes great pride in making her patients feel comfortable, cared for and she has a big heart that wants to help heal those truly in pain. If you need your day brightened up a bit and want to leave here feeling in less overall pain, with the relief of either acute or chronic pain, then just ask for Sunshine.
Cassie Studer, LMT
Cassie graduated from East West College of the Healing Arts in Portland, Oregon in 1996 and has practiced Therapeutic Massage ever since. Specializing in Traumatic Injury Recovery, Elderly Massages, Relaxation Massage Therapy. Throughout her 22 years of practice, Cassie has been trained in Sports Massage, Prenatal Massage, Infant Massage with Training for Parents, Postural Assessment, Pin and Stretch Ligament Rebalancing, Lymphatic Drainage, Geriatric Massage, Intra-Oral Jaw Treatments for TMJD, along with Auto-Accident Care. Cassie lives in Olympia with her husband of 20 or more years and her sweet kitty. She has worked in the South Puget Sound since 2004. Although she loves a good laugh, don't be surprised if she takes your case very seriously and gets right to work. Whether you want a better sports performance, need post-operative care, help to improving your posture & increase your range of motion, or could use some guidance to manage high stress in your life, Cassie's caring ability and skills will be perfect for you.
Maile Koeckritz, LMT
Maile is a patient focused, dependable, caring therapist and her patients mean a lot to her. She is one who strives to help her patients to become healthier, happier and achieve their wellness goals. She will and has gone out of her way to make a difference in her patient's lives, not just by her therapy she provides, but also by her kind guidance, empathy and education she shares, to help those who are in pain.  She graduated in 2010 from Inland Massage Institute has been a Therapist at Steamboat for almost 2 years. Maile enjoys using and applying her skills she has obtained over the years, for the well-being and healing of her patients. Maile specializes in Sports Massage, Auto Accident Treatment, Injury Treatment & Deep Tissue Therapy, yet she is gentle, if needed when one is suffering from an acute muscular injury or is in high level of pain. On her spare time, she enjoys riding her motorcycle with her best friend Brian and running with her dog.  She is also enrolled in the preliminary classes for Nursing School, which will launch her even further as being a person who loves to make a difference in her patient's lives. So, if you would like Maile's quality and dedicated care, that she so faithfully provides, then call to get on her schedule.
Seth Glover, LMT
Seth is a very dependable, kind and compassionate who has been working at Steamboat for over 2 years now. His approach and techniques are very slow and relaxing and he likes to integrate Swedish and Lomi Lomi to his sessions. He aims to treat the body as a whole, so that his patients leave feeling like they've had a balanced full body relaxation, yet therapeutic treatment. When needed, Seth likes to incorporate manual stretching of individual muscles, as well as lengthening fascial lines to address overall restrictions that muscle can have when they are extra tight. Seth is also a certified as a Personal Trainer with emphasis on corrective exercise. Upon request, he also can perform Gua Sha which is an Ancient Chinese Tradition of manually scraping the superficial tissue with a flat edge tool to release stagnant blood and fascial restrictions. His calm demeanor helps as he guides specific patients to incorporate stretching and strengthening techniques to their daily lives after his sessions. If you need a little extra help with relaxing your muscles, injury prevention, self help, and lengthening techniques, then we'll get you scheduled with Seth.
Jessica Divins, LMT
Jessica is known for her Deep Tissue Therapy , Auto Accident care , Sports Injury Treatment techniques. She knows how to find that muscle that's pulling too tight causing a headache or she's able to help with the pain in her patient's low back, which is making it hard for them to sit or stand. She understands Auto Accident pain, since she has been in one herself. Her bright smile welcomes everyone and her therapeutic skills are there to help find the issue of her patient's major muscular pain. Jessica, her 3 darling kids and husband live in Lacey and enjoy their fun and active family time. Jessica loves to help people in need who struggle with tight muscle tension, stress, and or injuries, especially if you prefer Deep Tissue Therapy, then Jessica is the perfect Therapist for you or someone you know.
Preethie Capezio, LMT
Preethie has such an inviting personality. Her warm, caring & gentle way of healing is well worth the experience. She has been associated with this Clinic, as a Massage Therapist for over 8 years and has been practicing for over 20. She has graduated from Acupuncture Schooling and is just awaiting to take her big exam, so you know her intent is to heal people. Preethie takes time in helping people who come in the clinic with muscle pain or who may be suffering from a headache or migraine, to be able to leave with less stiffness, pain and stress. She takes time not just for the physical aspect of pain, but she will be there for those who need of mental, emotional care, as well. Whether she is taking care of an Auto Accident Patient, or on the Job Injury or maybe a Relaxation Massage is in order, then Preethie can do that just for you, your friend or family member.
Joel Rouse, LMT
Joel is a Graduate of Olympia's Bodymechanics School of Myotherapy. He has experience working in a Physical Therapy Clinic as an Occupational Aide specializing in Hand Therapy. He is very patient oriented, professional and engaging.  He is also a U.S ARMY VETRAN who's passion is to help people live a less stressful & painful life. He is not afraid to get on the floor to show patients, in need, of beneficial stretches and encourages them with self-help ideas to continue their care at home. His specialty is Myofascial Release, Injury Treatment, Deep Tissue, Swedish Massage, Lomi Lomi, Trigger Point Therapy and Sports Massage. You won't be disappointed with Joel.
Mr. Shaggy Sheffels, Greeter/Therapy Dog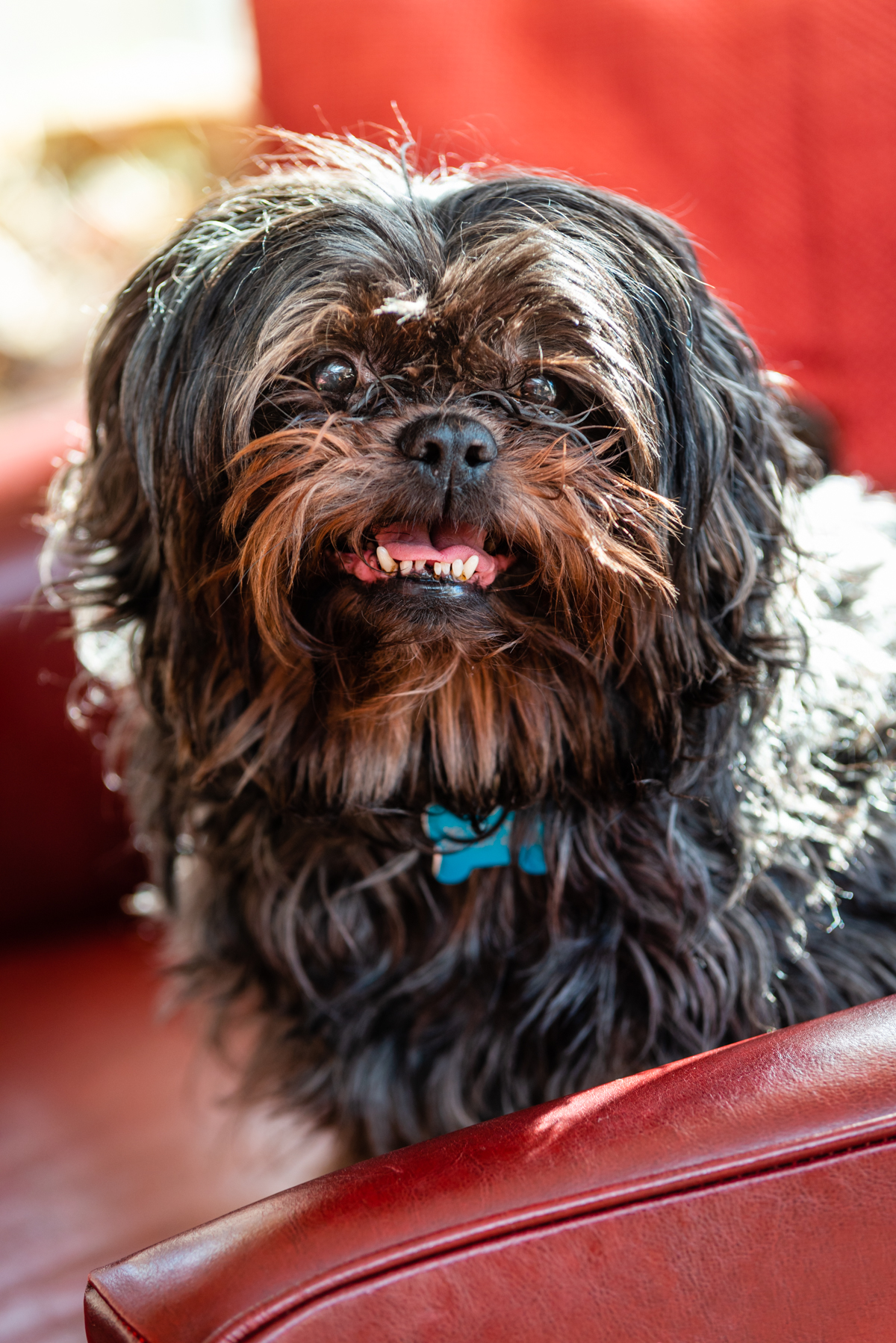 Shaggy loves to meet and greet each person who comes in the door. He is a little gentleman. Shaggy is very calm, polite and his hair is hypoallergenic. Shaggy was a rescue pup about 10 years ago and he has been, and still is, the clinic's highlight everyday he comes into work.  He truly enjoys making you feel welcome….there's just something about Shaggy you can't help but love.